CLOWN TOM BOLTON
The action comedy show that's fun for everyone!

Clown in Stuttgart
Tom is one of Southwest Germany's  favorite performers
Entertainer and juggler Tom Bolton is well known and loved clown in Stuttgart, Germany his adopted home. This is the capital city of the southwestern region of Baden-Württemberg. Tom has been referred to as a local living legend who first appeared on the main plaza known as the Schlossplatz in the early 1980's with street shows. Multiple local performers have mentioned him as an important inspiration in their own career choice.
Entertainment for local events
Whether it is for festivals, company events, organizations and clubs or a private event, Tom is the best choice for family friendly entertainment. Doing shows, variations of his walk-around entertainment, balloon-twisting or juggling workshops, Tom has the performance skills needed to highlight any occasion. While the Clown in Stuttgart Tom has worked all over the world, gigs in the metropolitan area and surrounding region of  Baden-Württemberg are now preferred. This optimizes his energy for the actual entertainment rather than the hassle of long trips. Especially for shorter engagements, having a local artist saves travel and hotel costs and a lot of stress.
Performing in Baden-Württemberg's capital city
Tom started off doing comedy juggling but changed to silent clown shows but still uses artistic talents like juggling and uni-cycling. He added mimic, body language and slapstick to emphasis fun over technique. While Tom rarely does a street show anymore, he is still widely recognized as THE Clown in Stuttgart's central pedestrian zone. Local parents are often delighted to be able to introduce their own children to the performer they most remember from their own childhood. And Tom's reputation spread over the years. More than once people from elsewhere mentioned asking their kids what they should do on the weekend and were answered with; go to Stuttgart for the day and see if the clown (Tom) is there!
When Tom first came to Europe in the early 1980s he traveled all over making shows. Of course there were more cosmopolitan cities like Hamburg or Munich none the less Amsterdam, Paris or Prague. But something keeps drawing Tom back to Stuttgart. Somehow the people just like him and he likes the area. One knew from seeing the Mercedes symbol rotating on top of the main train station that this was a prosperous area. The people are hard-working and serious but also like to relax and have a good laugh on their free time. And they know quality when they see it; no surprise Stuttgart is home to internationally respected companies like Porsche and Mercedes.
So over the years Tom returned again and again to Stuttgart. He also lived in a number of close-by cities like Tübingen, a well-known University town about 40 kilometers to the south. Tom enjoyed the architecture from the middle-ages and laid back atmosphere there when not off in the "big city" of Stuttgart. Tom would usually travel in warm third world countries during the cold winter months and then return to Stuttgart in the early spring. He often toured around the rest of Western Europe; Scandinavia in the summer and southern Europe in the early autumn before returning to Stuttgart once again. Eventually he made Stuttgart his permanent home by buying an apartment there in the year 2000. In 2019 Tom was given German citizenship and one of 3 candidates presented at the citizenship ceremony in the Stuttgart city hall. He was applauded for his contribution to public life in Stuttgart and for sharing his story of making the city his permanent home.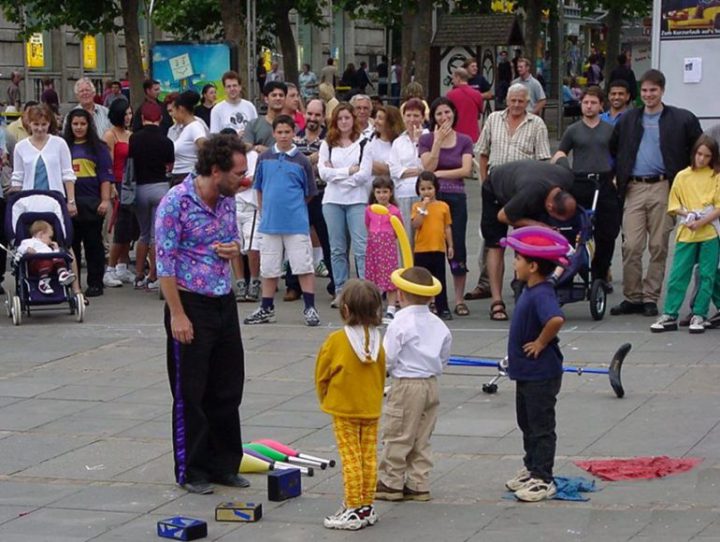 Early Memories of Stuttgart
Some first memories of Stuttgart were how impressive it was for performing possibilities. From the main strain station, the Köngistr. runs for about a kilometer. It's one of the longest pedestrian and shopping streets in Germany if not Europe. Right in the middle is the famous Schlossplatz, an area of green, statues  and fountains sides by 2 castles, museums  and  the historical Königsbau, a castle like building with majestic pillars. First built by royal order to contain businesses, a concert hall and ballroom it now has shops and the backside has a modern extension with a shopping center with Stuttgart's largest food court. Between the Königsbau and the newer Cube museum there is an elevated plaza connected by a series of stairs. In front of the stairs, creating an atmosphere of an outdoor theater, Tom used as his place to do street shows.
In the 1980's before Tom had established himself as a known artist for festivals, company gigs and private events he did many street performances to huge, loving crowds. People loved Tom's spontaneous-ness playing with every new situation. And everyone was welcome. Rich, poor, old, young – it didn't matter. The more the merrier and the more diverse, the more interesting was Tom's motto.
Tom's show makes babies!
This is one of Tom's favorite stories that took place in Stuttgart, Germany. He was on the Schlossplatz after doing a show one weekend in spring in the late 1980's. A huge black guy approached him and said; "you made my wife have a baby!".  Trying not to panic, Tom asked what he was talking about. He explained that he and his family were big fans of Tom. They had watched his show the year before while his pregnant wife was close to her due date. He said that she laughed so hard that her water broke and she had to go straight to the hospital. No, they did not name the kid after Tom but he said that he thought of him every time he looked at his lovely daughter.
The moral of the story is that while Tom's show is appropriate for all ages and cultures – be prepared to laugh. If you have a medical condition, it might be a bit much for you. On the other hand laughter really is the best medicine. Tom performed in a hospital once and a child undergoing cancer treatments moved around and laughed and had fun; something she hadn't done in a long time. Another time, an older man approached Tom in Stuttgart with a tear in their eye to thank him. He had lost his spouse and said watching his show was the first time they had really laughed in 3 years.
Other times, Tom did shows in slums in India, Bangladesh, Ethiopia and many other third world countries. For many, surely they will never forget the time the crazy white guy showed up and entertained the people in the streets. One in Guatemala Tom was in a mountainous region in a small village populated by ingenious people. There was a lot of civil unrest at the time and military troops patrolled the streets. The tension was very high. Then Tom did a show on the plaza if front of the main church and someone went up into the belfry and rang the church bells calling people from throughout the village to come see. Even the soldiers in the back with their automatic rifles were smiling. No, a clown will not raise people from the dead but can still create a memory of a lifetime.
An accomplished juggler
Tom started his performing career doing comedy juggling. Back in the early 1980's this was not so well known outside of the circus or variety theater. It was not uncommon to hear people make the comment "fire-spitter" when they saw him setting up his equipment on the Stuttgart Schlossplatz. Crowds were much more familiar with fakirs spitting fire and walking on broken glass than doing high level juggling tricks. But people appreciated the technique and some were inspired to trying juggling for themselves. Tom gave impromptu workshops to many fans after his shows. Now days juggling is a popular hobby through Germany  and much of the world. Many in the international juggling community may never have heard Tom's name but would rightfully trace who taught them back through dozens of people over the decades back to someone Tom instructed or motivated.
Although Tom changed his emphasis to clowning and laughter rather than just impressing with technique; he still juggles and teaches others when the occasion arises. Young jugglers have gone well beyond his ability but have been keen on hearing him talk occasionally at juggling conventions. He has shared stories of his development and experiences in performing in many places that has previously not seen a street juggler. He also is able to drop the names of many modern juggling legends who he crossed paths with back when they were just starting out. As Tom has aged he has slowly back away from doing a huge amount of technical juggling in his show but continues to both enjoy it as a mind and body beneficial hobby and to teach others. In recent years he is often seen at the central University campus in Stuttgart where he usually trains.
For some events people request Tom to do juggling workshops. After having seen his show, many are inspired to try and see if they can't learn as well. And Tom is not just good a juggler but an accomplished teacher as well. He has the experience and feeling to guide people at their own speed; to give positive feedback to optimize learning. There are a number of tricks that such a teacher can use which make learning much quicker and fun; often getting results from people who had tried and failed. For many, they feel pride to say they not only had fun at an event but learned something new. And there are many aspects that make juggling an ideal hobby. It trains both the body and concentration. Some say it is almost like meditation, giving them peace of mind. And it is fundamentally not competitive or combative so one rarely gets injured.
Strange things can happen in Stuttgart
Despite having many successful performances in Stuttgart one can imagine that on occasion strange things happen. In many cities there are restrictive laws for street performances as to where and when thy can work. Stuttgart is known for being very liberal about such things. But one in the late 1980's a police approached Tom after a show and said that he thought juggling torches on the tall unicycle could be dangerous and should not be done. Tom is always careful about such things putting safety first and always leaves plenty of space to his audiences just to be sure. But because of the warning he felt he had to constantly look over his should to see if this police man was around when he did his finale act with the fire.
About a week after the warning Tom was almost finished with a show and suddenly some police came running by, and then came a police car and then another. They were all grouped around the next corner just about 150 meters away. Tom though it risky to do the torches so he keep stalling and doing additional tricks, hoping the police would leave. At some point he gave up and did his final trick like always and had no problem. He then packed up and went down the street to see what was going on. Apparently a person had jumped off the top of a building and killed themselves. It was a bit surreal for Tom to realize that he would have likely seen the person if he had been looking in that direction when it happened. A fleeting thought was also that if the person had come by earlier and seen Tom's show then maybe they would have gotten a spark of hope and reconsidered their plan.
A couple of weeks later Tom was back performing in the Stuttgart Königstrasse. He felt a bit apprehensive having been hassled by the police and then having someone die so close during his show.  Tom still managed to get a very good show going but half way through he saw a police officer watching him. Again he stalled to do the torch juggling thinking he could get trouble for using fire. In the end he did it anyway. Afterwards the policeman was still there and approached him. But rather than having anything negative to say, he mentioned that he also juggled a bit, had a unicycle and he complimented Tom's artistic abilities.